Football Fantastic!
Football Fantastic!
9 October 2018 (by admin)
Eckington CE First School took part in a festival against other local schools.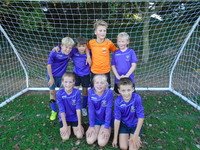 Our football team made up of girls and boys from Class 4 played 3 other schools this afternoon. The children were exceptional. Skills, flair, tenacity, determination were all on show, but what stood out the most was the way the children worked as a team. Always supporting each other, talking and helping. They won, lost and drew matches with real togetherness. Well done all.